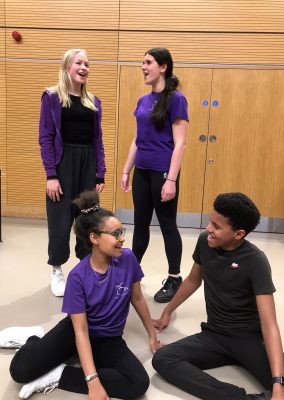 Every level, from beginner to accomplished performer, is catered for in classes where marks are awarded, and in those where only feedback is given.
Classes are defined by age-group and by genre and period to ensure that players can participate in whatever environment they feel most comfortable.
Genres and periods covered include Baroque, Classical Italian, Oratorio or Sacred Song, Operetta, Gilbert & Sullivan, Romantic, Contemporary, Musical Theatre and Show/Film songs.
Recital classes, including the Dame Felicity Lott Recital Classes, provide an opportunity to give a sustained performance of contrasting pieces.
In addition to solo classes, there are opportunities for duets, trios and quartets, and for a family group.
2022 Award Winners
Coaching awards:
Yvonne Patrick and Dame Felicity Lott:  Alice Hamilton
John Hancorn: Jemima Byrne
Lesley-Anne Sammons: Daria Robertson
Trophies
Madame H Palgrave Turner:  Jemima Byrne
The Laura Eaton Cup:  Jemima Byrne
Awards
Dame Felicity Lott Recital Competition
An award of £150 to the overall winner has been kindly donated by Martin Knott, alongside £60 for the overall runner-up. Coaching sessions with Lesley Anne Sammons, John Hancorn and Dame Felicity Lott herself are awarded at the discretion of the adjudicator.
Adult Singing
A discretionary prize of a session with Yvonne Patrick is offered to the person receiving the highest
mark in classes 427, 428, 429 and 430.
Singing Rules
Performing songs from memory is encouraged but not compulsory. Marks are awarded for both performance and communication, and as singing from music may have a negative impact on communication it could affect the final mark.
Please note that musical theatre, show/film songs etc are only permitted in classes specifically headed 'Music Theatre & Film' and classes 416, 425 and 435. No pop songs are permitted in any classes.
Where needed, performers must either provide their own accompanist or use a recommended accompanist as listed on the Springboard website. Backing tracks are ONLY permitted in classes 416, 425 and 435. Performers will need to provide their own equipment and confirm that they have a licence that permits use of the backing track in performance.
Voice amplification is not permitted in any class.
Performers are asked to pay close attention to the time limit for each class, as a performance that is over the limit may not be adjudicated.
Copies of music or scores are required for the Adjudicator for all classes. (See Music Rules below regarding the copying of copyright works.)
A piece may be sung in only one class in the Festival.
In classes for under-18s, teachers and performers should be aware that the music chosen needs to be appropriate to the performer's age and ability.
Intermediate and adult performers are asked to sing in the original language wherever possible if the original language is English, French, German or Italian.
PLEASE NOTE that Springboard reserves the right not to refund entry fees if an entrant decides to withdraw.
Music General Rules
Copies of own-choice works for the adjudicator
The Music Publishers Association has recently issued a revised Code of Practice on copying copyright works and the following concession is made for copying Own Choice pieces from volumes only for the adjudicator. Other items must not be photocopied without permission of the copyright holder in each case.
"When an Own Choice work is selected from a publication containing several different works and which is not published separately, one copy may be made for the use of an adjudicator at a competition or festival provided that the competitor has already purchased his/her own copy and that the copy made is retained and destroyed by the administrator of the Competition or Festival immediately after the event. This permission specifically does not apply to set works."
Performers are advised that this permission applies only to copyright holders who are members of The Music Publishers Association, listed at the back of the Code of Practice leaflet, obtainable from the Association at 6th Floor, British Music House, 26 Berners Street, London W1T 3LR. Tel. 020 7580 0126020 7580 0126
It is performers' own responsibility to ensure that they seek permission to copy direct from any copyright holder whose name does not appear in the MPA list. Single copies of items may not be photocopied without prior permission of the copyright holder. The permission does not apply to making copies for the Accompanist, who should always be given a printed copy from which to work.
Photocopies for the Adjudicator must be totally legible or they may be refused.
Copyright guidance regarding internet downloads
Where music is downloaded from the internet, the performer must also print off and submit the permission statement accompanying the music. Please click here to see copyright guidance concerning internet downloads.
General Rules & Regulations
Please ensure that you read the Festival's General Rules & Regulations, downloadable
here
.