Richard Durrant –Guitar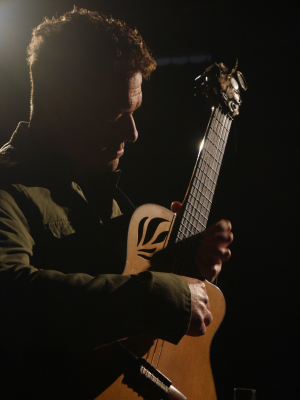 Richard Durrant is a musician who defies categorisation. He is one of the leading guitar virtuosos of his generation. He performs standing up and writes a high proportion of his own concert music.
Richard performs worldwide. He's celebrated in Paraguay for his playing of the music of Agustin Barrios and his unique approach to Bach on guitar, tenor guitar and ukulele have received critical acclaim. His compositions include a ukulele concerto Six Grooves for Ukulele and The Girl at the Airport for guitar and strings. In the UK Richard has appeared on BBC Radio 1, 2, 3, 4 and 6 Music.
Richard shows his environmental concern by playing his annual, midsummer tour carrying everything on a bicycle. He has cycled the length of the British Isles several times appearing in cathedrals, concert halls, theatres, churches, forests and fields. His Candlelit Christmas Tour and Music for Midsummer Tour have become a much loved fixture for audiences throughout the UK.
Richard studied guitar, composition and cello at the Royal College of Music graduating in 1986.  He is a passionate supporter of music literacy, particularly amongst guitarists. He has received an award from Prince Charles (now King Charles) for his work supporting art in the community. Richard has run a week long guitar teaching holiday in France for the past seven years.
Cally Foster – Speech & Drama week 1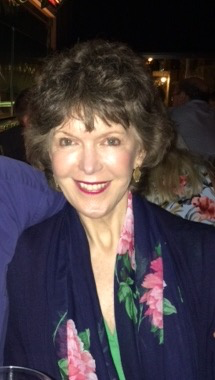 Since her first appearance in a festival at the age of five Cally has been committed to the festival movement and has pursued a career as a speech and drama specialist.  She was the principal of her Buckinghamshire based drama studio for more than 20 years, combining that role with travelling extensively in the UK, Europe and Internationally as an Examiner for LAMDA and as an Adjudicator.  Cally also delivers workshops on all aspects of communication and performance and is on various Speakers' Panels. She is an Adjudicator member of the British and International Federation of Festivals, a Speech & Drama Representative on the Adjudicators Council and a former Chairman of the Society of Teachers of Speech and Drama.
Cally believes that performing in festivals not only encourages an appreciation of the Arts, but also develops the communication and presentation skills so important in today's increasingly electronic world. Cally is delighted to be returning to adjudicate the Speech & Drama classes at the Springboard – Brighton & Hove Performing Arts Festival in 2024, and wishes everyone an enjoyable as well as a positive experience.
Rebecca Vines – Speech & Drama Week 2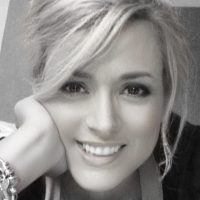 Rebecca trained as an actor with The London Centre for Theatre Studies, and has performed in a variety of roles, including Maggie (Dancing at Lughnasa), Beverly (Abigail's Party), Madame Arcati (Blithe Spirit), Susan (A Bed Among the Lentils) and Elizabeth Proctor (The Crucible).
In 2014, Rebecca was awarded the Fellowship of the Royal Society of Arts for her work in establishing theatre companies to promote young and emerging performers. Rebecca specialises in helping emerging performers take their first professional steps, and as such has founded and worked as Artistic Director for the theatre companies Close Up Theatre, No Prophet Theatre, Eleventh Hour Theatre and Talking Shadows. Rebecca's shows have attained critical and commercial success at the Edinburgh Fringe, consistently garnering top reviews for productions of both classic and modern texts.
Rebecca trained as a journalist at Cardiff University and has written for a range of publications: most notably The Guardian newspaper and as a theatre critic for Broadway Baby and Theatreworld Magazine. As a playwright and adapter, her works include the Bronte biography More Myself Than I Am ("dynamic" – The Wee Review, "gripping and unforgettable" – Broadway Baby); 1984 ("bleak… frightening… powerful" – Broadway Baby); Richard III ("Excellent" – Three Weeks) and the new works OTMA and Tom Brown's Schooldays.
Rebecca is passionate about opening up diversity in the Arts and works with a range of agencies to ensure enhanced visibility for all sectors of society.
Rebecca is a BIFF adjudicator, LAMDA examiner, GCSE and A level moderator, lecturer, teacher and practitioner. Former pupils have trained with RADA, LAMDA, Central, Guildhall, Mountview, Rose Bruford, E15, ALRA, RWCMD, AADA, NYT and NYTM; and have worked a range of professional companies including the BBC, ITV, C4, RSC, Globe and the National Theatre.
Luis Parés – Junior Piano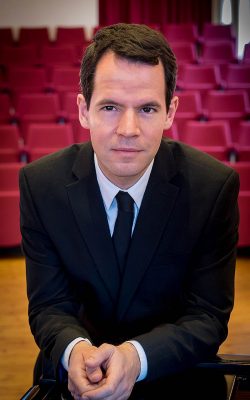 Luis Parés enjoys an international career as a soloist and chamber musician having performed in numerous countries in Europe, Asia, North and South America. He has appeared at the most prestigious British venues, including the Queen Elizabeth Hall, Wigmore Hall, Cadogan Hall and Bridgewater Hall among many others and has performed as soloist with orchestras in Europe and South America, and made live broadcasts for BBC Radio 3, RAI Italy, Kol HaMusika Israel and Spanish radio.
He started his piano studies with Juan Antúnez and Igor Lavrov, and he was a Scholar and Mills Williams Junior Fellow at the Royal College of Music in London where he studied with Gordon Fergus-Thompson and Andrew Ball. He has been a prize-winner at national and international piano competitions, including First Prize at the XI Ricard Viñes International Piano Competition (Lerida, Spain), Third Prize at the Maria Canals International Competition, duo sonatas category, in Barcelona and was a recipient of a Making Music Young Concert Artists Award.
Nigel Clayton – Senior Piano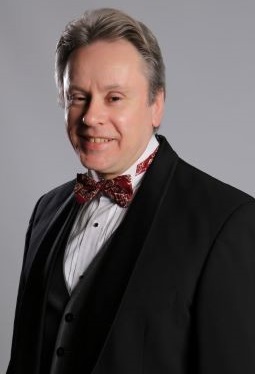 A pianist, chamber musician and music educator, professor Nigel Clayton is a piano professor at the Royal College of Music (RCM), London, where he not only teaches solo piano but also coaches chamber ensembles and lectures on the Art of Teaching. His association with the RCM began in the Junior Department and then continued in the senior department where he studied with Stephen Savage and Angus Morrison. He is also principal piano teacher at the North East of Scotland Music School in Aberdeen.
A highly active musician, Nigel has performed at almost every music society in his native country and has travelled to Japan, Taiwan, Switzerland, Hong Kong, India, Singapore, Indonesia and throughout Europe for concerts, masterclasses and summer courses. He is also invited to adjudicate at international competitions, and takes every opportunity to nurture the development of young musicians as they journey on their musical path. For his services in the musical world Nigel was awarded a Fellowship of the Royal College of Music (FRCM) presented by the then HRH Prince of Wales in 2017.
Alexandra Urquhart – Strings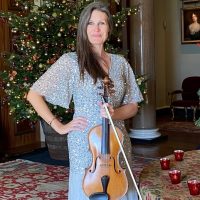 Alexandra Urquhart trained as a viola player at Trinity College of Music and then the Royal College of Music. At Trinity, she was awarded the Guivier Strings and Band/Kurtz Viola Prizes. She has played with the Philharmonia Orchestra, BBC NOW and the Royal Liverpool Philharmonic Orchestra, as well as a year in Chile with the Orquesta Filarmonica de Santiago. As a soloist she has performed the Walton and Telemann Concerti and Mozart's Sinfonia Concertante.
Alexandra enjoys playing in many genres. She recorded on the album 'Bad Blood' by Bastille, as well as playing with the band at Glastonbury and on the festival circuit. She has recorded with Tango Siempre and performed on several occasions at Ronnie Scott's in London with Gilad Atzmon's Orient House Ensemble. Alexandra plays regularly with South Downs Strings and Slide and Fiddle, a violin and dobro folk duo.
Alexandra is passionate about teaching and education work, having coached and performed in projects for the Royal Philharmonic Orchestra, Philharmonia, National Youth Orchestra, Pro Corda and Glyndebourne Youth Opera. Alexandra is a qualified secondary music teacher, has a private teaching practice and is the upper strings teacher and strings coach at Seaford College and Dorset House School.
Julie Wright – Woodwind & Brass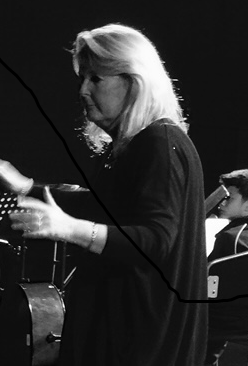 Julie Wright is from the famous Needham flute and piccolo playing family of the Halle Orchestra. She studied flute and piccolo with Atarah ben-Tovim MBE and then went to university, gaining a first class honours degree in music, psychology and education. Julie has pursued a varied freelance playing and teaching career with three commercial recordings in her name to date. She is universally respected by all ages and abilities for her master classes and loved for the irrepressible joie de vivre that has enticed players of all  levels to her 'Flutes En Vacances' courses and concerts.  Embassy Concerts, corporate presentations and musical soirees also feature highly on Julie's programme.
As one of the most experienced teachers of adults, children and students in the world, she is constantly in demand for her expertise. For 7 years she was teacher of flute and piccolo at Trinity Music College, London, UK.  For 18 years she was events coordinator and international liaison for the British Flute Society and organized the international UK Flute Convention every two years with Trevor Wye. From 2012 to 2015 she has been a tutor on The International Flute Summer School hosted by Trevor Wye, with 30 students attending from all over the world.
Julie has visited many international educational establishments to observe and assist with teaching programmes and is into her 35th year of organizing residential music courses for flute, clarinet and saxophone players.
Julie is a freelance flute teacher in London, UK and music education consultant, presenter, workshop and seminar leader, worldwide.
Christopher Field – Singing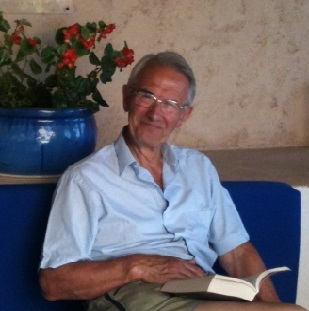 Christopher Field has enjoyed a widely varied musical career. As a boy, he sang at the Coronation of HM Queen Elizabeth II in Westminster Abbey and played double bass in the London Schools Symphony Orchestra. While a choral scholar at Trinity College, Cambridge, he conducted the College Madrigal Group and played in the University Orchestra.  He continued his studies as a scholar of the Royal Academy of Music and in Switzerland with Frederick Husler on an Arts Council of Great Britain postgraduate award.
His subsequent career as a schoolmaster at Dulwich College was combined with extensive work as a concert baritone, choral conductor, composer and teacher of singing and double bass.  For over fifty years, various of his teaching works have appeared in the singing and double bass syllabuses of the major examination boards. He has been published by Banks, Boosey and Hawkes, Recital Music, Weinberger and Yorke Edition.
An experienced adjudicator member of the British and International Federation of Festivals, he conducts the City of London Chamber Choir and was, until recently, an ABRSM diploma examiner. He was appointed an Associate of the Royal Academy of Music in 1993.
Elissa Hicken – Musical Theatre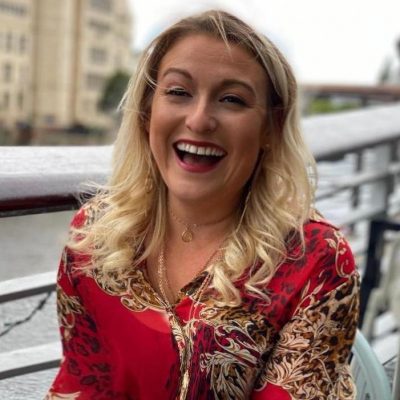 Before relocating to the north Elissa was the Acting Head of Singing at the Guildford School of Acting (GSA) and Audition leader for 6 years. Elissa is also an External Examiner for Drama Schools across the UK and has taught globally within the musical theatre and commercial sectors.
Elissa continues to work as a Vocal Coach to stars throughout the West End, TV and Film including work for Disney and Fox Entertainment and as a musical theatre specialist in Conservatoires across the UK.
Elissa works with all ages and established her own theatre school Encore Musical Theatre in 2021 which specialises in training the integration of disciplines for young people. This year Elissa also founded the Grafters Audition Preparation programme in Yorkshire to help young actors train intensively for the Drama School audition process.