Due to the ongoing situation with Covid-19 it has been decided, with regret, that there will be no Concerto Classes during Springboard 2021. We very much look forward to reviving the classes in 2022. 
When they are run, Concerto classes are open to Guitar, Piano, Strings, Woodwind and Brass players. They are held in the Main Hall of Brighton Girls GDST, Montpelier Road, Brighton, BN1 3AT, which is a 15-minute walk from Brighton railway station.
The first or last movement of a concerto or a piece with orchestra of similar stature should be played, or two contrasting movements from a baroque concerto.
The orchestral part should be played by a pianist, who will not be adjudicated.
Full details of the classes are given below.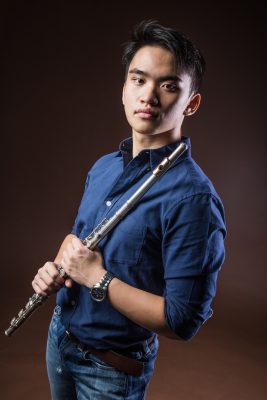 The class for 25 years and under is open to both amateur and professional players. In 2019, the winner was Jonathan Ma, who gave a sparkling performance of the first movement of Reinecke's Flute Concerto in D. The runner up was Hannah Hever with Weber's Concerto Clarinet no 2, second movement.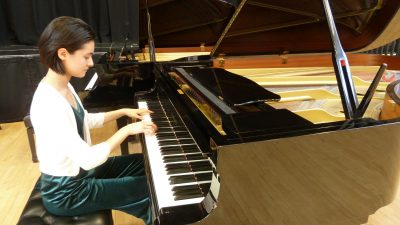 There are two classes for amateur players: 14 years and under, 19 years and under. In 2019 they were won by Riya Hamie and Berniya Hamie.
As well as cash prizes for the winners and runners up, there are discretionary awards giving selected players an opportunity to perform with an orchestra (see below), and an opportunity for two players to give a lunchtime recital in Brighton in the following May and early June.
The Gavin Henderson prize of £75 is awarded to the brass instrumentalist with the highest mark in classes 900, 901 or 902.
Please be sure to read the Music Rules below regarding the provision of a copy of the work to be performed for the adjudicator, and the code of practice regarding photocopying of works in copyright.
Awards
The Brighton Youth Orchestra Trust Discretionary Awards
Concerto players may be given the opportunity to perform with the Brighton Youth Orchestra or the String Ensemble in the seasons following the Festival.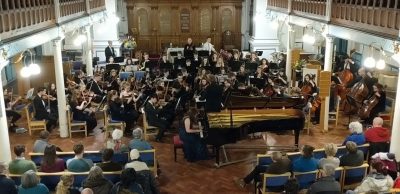 These awards will be considered separately from the Springboard competition by the Director of the Brighton Youth Orchestra or String Ensemble or the Brighton and Hove Philharmonia in the seasons following the Festival. The winners chosen by the Springboard Adjudicators will not necessarily be the ones chosen for the award, as other factors such as the suitability of the concerto for the orchestras will need to be taken into account.
Please note: Players awarded this opportunity are required to attend rehearsals running up to their performance date.
"This collaboration with Springboard Concerto Competition is very successful. Some of the best young musicians in the country apply because the main prizes are performances with BYO or the string ensemble. We are confident that the growing reputation of this competition will ensure that BYO continues to have great young soloists to work with, which provides much needed experience for the soloists themselves and, in turn, inspires the orchestra."
Andrew Sherwood, Conductor, BYO
Solo Recital
A booking has been made for a solo recital, to be offered to suitable performers in Class 902:
Unitarian Church, Brighton, Friday 22 May 2020
Chapel Royal, Brighton, Tuesday 2 June 2020
Classes
900                         14 years and under                         £15.00
Test: First or last movement of a Concerto (see above for all details)
Awards: Prize of £20
Brighton Youth Orchestra Discretionary Award
901                         19 years and under                         £20.00
Test: First or last movement of a Concerto (see above for all details)
Awards: Prize of £40
Brighton Youth Orchestra Discretionary Award
902                         25 years and under                         £25.00
THIS CLASS IS NOT RESTRICTED TO AMATEUR PERFORMERS
First or last movement of a Concerto (see above for all details)
Awards: First Prize: £150. Runner up prize: £100
Brighton Youth Orchestra Discretionary Award
Concerto Rules
All works are own choice and should be the first or last movement of a concerto or a piece with orchestra of similar stature. Two contrasting movements from a baroque concerto are also acceptable. In classes 901 and 902 WOODWIND AND BRASS competitors may play one or two movements of a concerto. Springboard can accommodate concertos for solo Piano only, but welcomes both solo and double works for other instruments.
There are no time limits for these classes but please state on the entry form which work will be performed, with approximate timing.
Only the performances of the soloist(s) will be adjudicated. Orchestral parts must be played as a Piano arrangement; this may be played by a professional.
An Own Choice piece may be used only once in the Festival (except when used in the Final of the Junior or Senior Piano Championship).
Copies of music or scores are required for the Adjudicator for all classes.
Entrants must organise an accompanist where needed.
Please contact Heather Cowl (details above) if you want to discuss your choice of concerto.
Music General Rules
Copies of own-choice works for the adjudicator
The Music Publishers Association has recently issued a revised Code of Practice on copying copyright works and the following concession is made for copying Own Choice pieces from volumes only for the adjudicator. Other items must not be photocopied without permission of the copyright holder in each case."When an Own Choice work is selected from a publication containing several different works and which is not published separately, one copy may be made for the use of an adjudicator at a competition or festival provided that the competitor has already purchased his/her own copy and that the copy made is retained and destroyed by the administrator of the Competition or Festival immediately after the event. This permission specifically does not apply to set works."
Performers are advised that this permission applies only to copyright holders who are members of The Music Publishers Association, listed at the back of the Code of Practice leaflet, obtainable from the Association at 6th Floor, British Music House, 26 Berners Street, London W1T 3LR. Tel. 020 7580 0126020 7580 0126
It is performers' own responsibility to ensure that they seek permission to copy direct from any copyright holder whose name does not appear in the MPA list. Single copies of items may not be photocopied without prior permission of the copyright holder. The permission does not apply to making copies for the Accompanist, who should always be given a printed copy from which to work.
Photocopies for the Adjudicator must be totally legible or they may be refused.
Copyright guidance regarding internet downloads
Where music is downloaded from the internet, the performer must also print off and submit the permission statement accompanying the music. Please click here to see copyright guidance concerning internet downloads.
General Rules & Regulations
Please ensure that you read the Festival's General Rules & Regulations, downloadable
here
.