Mandy Winder, Speech & Drama Section Secretary writes:
I just happened to be listening to my local Radio Station (Radio Sussex) this September, when my ears pricked up. I knew that voice – it was the lovely Becci Whiteley (The Theatre Workshop and West End Experience Creative Director and Springboard Speech and Drama Teacher).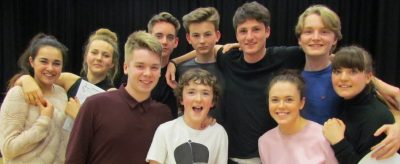 She was being interviewed with Brenock O'Connor – some of you may remember him as one of Becci's students.
It was always a delight to watch his work at the Festival over the years. He was about 12 when I first saw him and WOW! what a talent. But he was as humble and modest as he was talented. His most famous role was Olly in the Game of Thrones – and he had some great storylines (I'll never forgive him for stabbing Jon Snow). He is currently filming the new Alex Ryder series which is going to be a big hit, as well as jetting off to NYC to star in the new musical 'Sing Street'.
Listening to the interview I learnt that he had won a scholarship to study at the The Theatre Workshop and that now he wanted to offer the same to another student. What an admirable thing to do.