Dame Felicity Lott Recital Competition:
436 DAME FELICITY LOTT RECITAL I
437 DAME FELICITY LOTT RECITAL II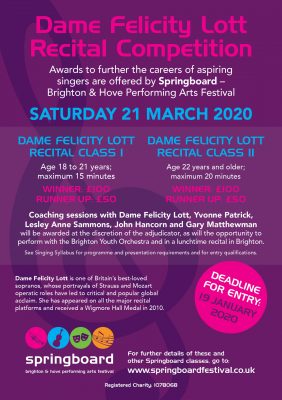 We are pleased to announce a new competition providing exciting opportunities and prizes for all singers aged 18 years or over, whose principal source of income does not derive from professional solo singing.
Discretionary prizes include possible performance opportunities with Brighton Youth Orchestra, a lunchtime recital at Brighton Unitarian Church, and coaching sessions with Yvonne Patrick, Gary Matthewman, Lesley Anne Sammons, John Hancorn and Dame Felicity Lott herself.
More information on all singing classes and a downloadable syllabus are available here.